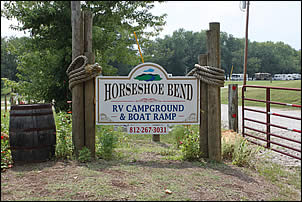 Leavenworth, Indiana is located:
1 hour west of Louisville, KY
2.5 hours south of Indianapolis, IN
20 minutes west of Corydon, IN
1.5 hours east of Evansville, IN
Horseshoe Bend RV Campground & Boat Ramp is conveniently located in Old Town Leavenworth:
at 850 West Court Street, Leavenworth, IN 47137
at mile 664.5 on the Cannellton pool of the Ohio River (great boating!)
close to lots of great area attractions
MAPS TO OUR LOCATION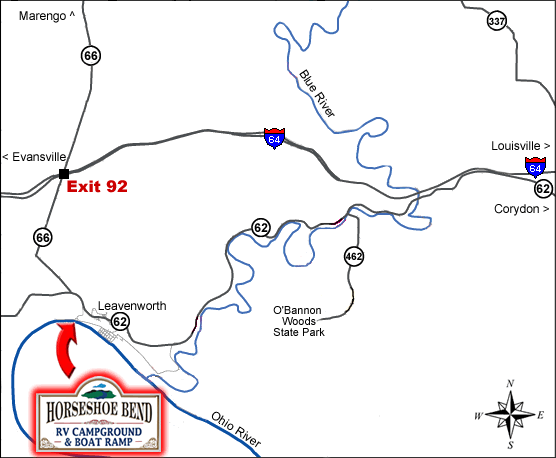 View Horseshoe Bend RV Campground and Boat Ramp in a larger map
DIRECTIONS TO OUR LOCATION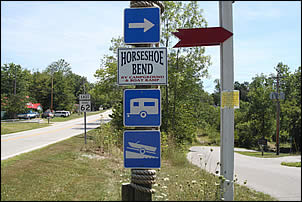 From I-64 take Exit 92 and follow SR 66 West. The road makes a hard left turn then comes to a T intersection with SR 62. Turn left and take SR 62 East toward Leavenworth.
Just past the main town area you will see a blue "Historical Marker" sign pointing to the right, then you will see Horseshoe Bend sign on the right and arrows pointing right. Turn right here (at a slight angle) and take the road down the big hill (past the historical marker) into Old Town Leavenworth.
At the bottom of the hill the road curves right and becomes Court Street. Follow this road past town and continue on to the campground.
FACILITY MAPS