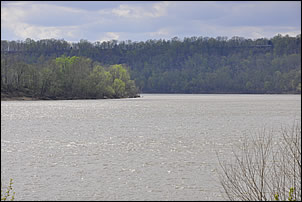 The lock and dams at Louisville, Kentucky and Cannellton, Indiana create the "Cannellton Pool" of the Ohio River, a 130 mile long "lake". Included in this section is the sharpest curve on the river, known as "Horseshoe Bend". In fact, oncoming barges must communicate with each other and time their maneuvers precisely so they don't pass at this sharp curve and risk collision.
Fishing has never been better! Aggressive casting of spinner baits produce fine specimens of large and smallmouth bass, or taking the traditional summer lazy way of jug fishing for gigantic catfish can provide for a fine evening of relaxation, river entertainment and sometimes even dinner!
The double wide concrete boat ramp at Horseshoe Bend Campground & Boat Ramp in Old Town Leavenworth, Indiana is a great place to access this water wonderland!